

MYKU Howlite Gold 32mm Watch
$ 720.00 USD
Howlite is a borate mineral known for its porcelain white or ivory coloring, pronounced with grayish veins. This gem is a popular choice with jewelers due to its porous surface, easily absorbing color. Celebrating Howlite's stunning purity, MYKU appreciates the natural color of this beautiful rock. All stones are carefully selected and only the most indigenously beautiful pieces are showcased in our timepieces.
The Stone
Discovered and named by Henry How in 1868 in California, this stone was originally seen as a nuisance by gypsum miners. Over time since its relatively recent discovery, Howlite became prized for its color-absorbing characteristics. Native Americans called it the "White Buffalo Stone". It is considered as a stone of calmness and tranquility as many believe wearing it will give a balanced mood and promote a positive mind.
Specifications
Howlite with Gold Case
Ref: EMGLNO-HL

Bezel: Satin Polished 316L Stainless Steel IP Gold Plated
Dial: Howlite
Markers & Hands: Brass
Movement: Swiss Quartz Ronda
Glass: Crystal Sapphire
Strap: Genuine Black Italian Leather
Strap Buckle: Polished Polished 316L Stainless Steel IP Gold Plated
Gender: Female
Battery operated: 10 years

Every watch is unique due to the natural stone dial face.
Dimensions
Dial Diameter: 32mm
Strap thickness: 2.8mm
Strap Length: One size fits wrists 130-185mm
Crown Size: 4mm
Case thickness: 6mm
Lug Width: 14mm
Shipping & Delivery
All purchases made from the MYKU website are shipped to all of our global destinations. Find out where we ship to here. Orders placed before 1pm (GMT+8) will be dispatched within the same day with delivery guaranteed for the next working day to Hong Kong while other world destinations will take 3-5 working days for delivery.
If you are not 100% satisfied with your purchase, you can return it to us within 30 days free of charge using the included returns label. Please note that items returned within 14 days can be refunded; any returns after the 14 day period will qualify only for store credit on the MYKU website. Learn more.
FreeDelivery
---
30-DayReturn
---
2-yearWarranty
Customer Reviews
10/24/2018
MOHAMED A.
United Kingdom
State of art timepiece
Bought the timepiece for my wife's birthday since she's into healing and gem stones. She absolutely loved it! It's so beautiful and unique and the story behind the watch and the founders also made me want to get it. It's so personal and unique and there's only one piece of each so it makes it even more special. The service was excellent, Francois personally got back to me for details of my address to insure a smooth shipment of the timepiece and to get it on time, I would definitely recommend it to everyone who is looking for a special product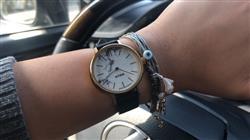 Dear Mohamed, thank you so much for your kind review. It means a lot. Happy Birthday to your wife again :)
09/09/2018
Karen O.
Australia
Simple elegance
I absolutely love my MYKU watch. Initial designs all were much too big for my wrist but this size is perfect. I could wear it for work as well as a dress watch. Is a simple piece but it also has a simple elegance presence with it. Love it!
08/24/2018
Julia S.
Hong Kong
IN LOVE!
I absolutely love my Myku Howlite Gold 32mm Watch, it's so elegant and clean, yet modern and special. I'm wearing it every day ever since I got it and am more than happy with my purchase!!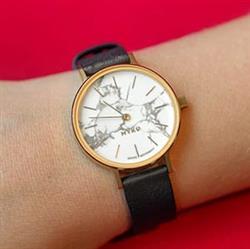 Dear Julia, thank you so much for your review. We're very happy you're happy with your Howlite
YOU MAY ALSO LIKE