Customer Reviews
07/06/2020
Uta W.
Hong Kong
I recommend this product
U.T. Witting
My unique Sardonyx is more than a watch to me, it's an art piece. I also was greatly touched by the personal hand written note that came with the very tastefully packed watch. A most lovely experience!
Thank you so much dear Uta, we love that you love your timepiece as an art piece. Mother Nature did all the work!
02/18/2020
Véronique H.
France
I recommend this product
Simply red, so beautiful
Real pleasure for me to have received my second Myku. Malachite or Sardonyx, green or red, I have the choice to pair my watch with my clothes and jewelries. What a beautiful design!
Dear Véronique, we're very happy to have you as a loyal customer. This is only the beginning of your collection
12/02/2019
Chris L.
Hong Kong SAR China
A wonderful gift for my wife
I bought this watch for my wife as the birthday gift. She hand-picked the stone pattern without knowing that it was for the watch until she received the gift. The watch is unique as there is no another watch would be exactly the same. My wife loves it very much. And thanks so much for Francois 's wonderful shipping and handling arrangement.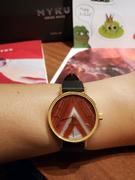 Dear Chris, many thanks for your review. Glad your wife loved the gift. Most welcome for the shipping arrangement